Stairlift can be installed on virtually all indoor stairways.
There are models and options to fit almost all users and budgets.
They work on straight, curved, angled, multi-level and spiral staircases.
Narrow steps (even under 30" wide) can usually be accommodated.
The type of walls (or even lack of a wall) is never an issue.
Options can be added for steps with doors, obstructions or passageways.
In rare cases we may suggest a modification to the existing handrails or walls to ease use of the lift or make extra space.
Call us now to review the best option for your situation.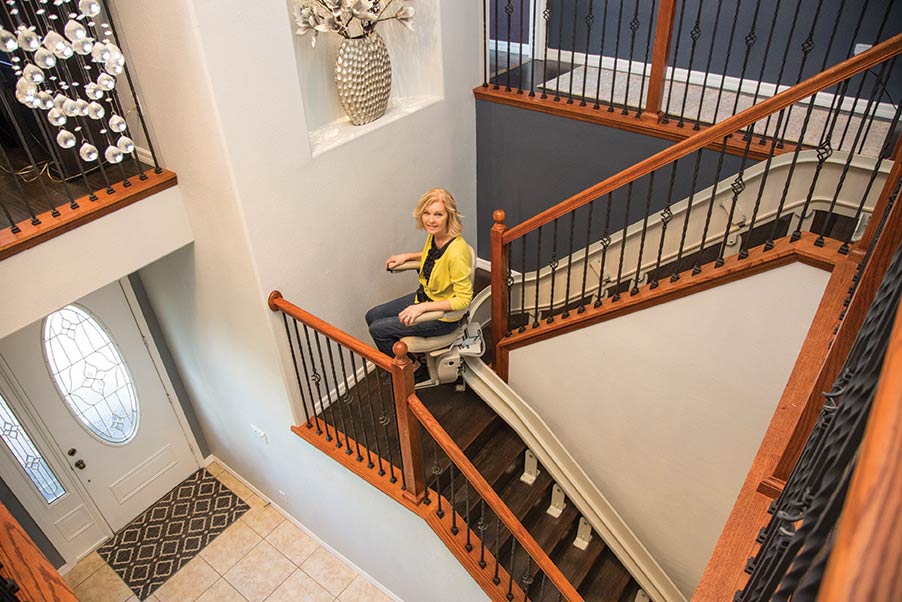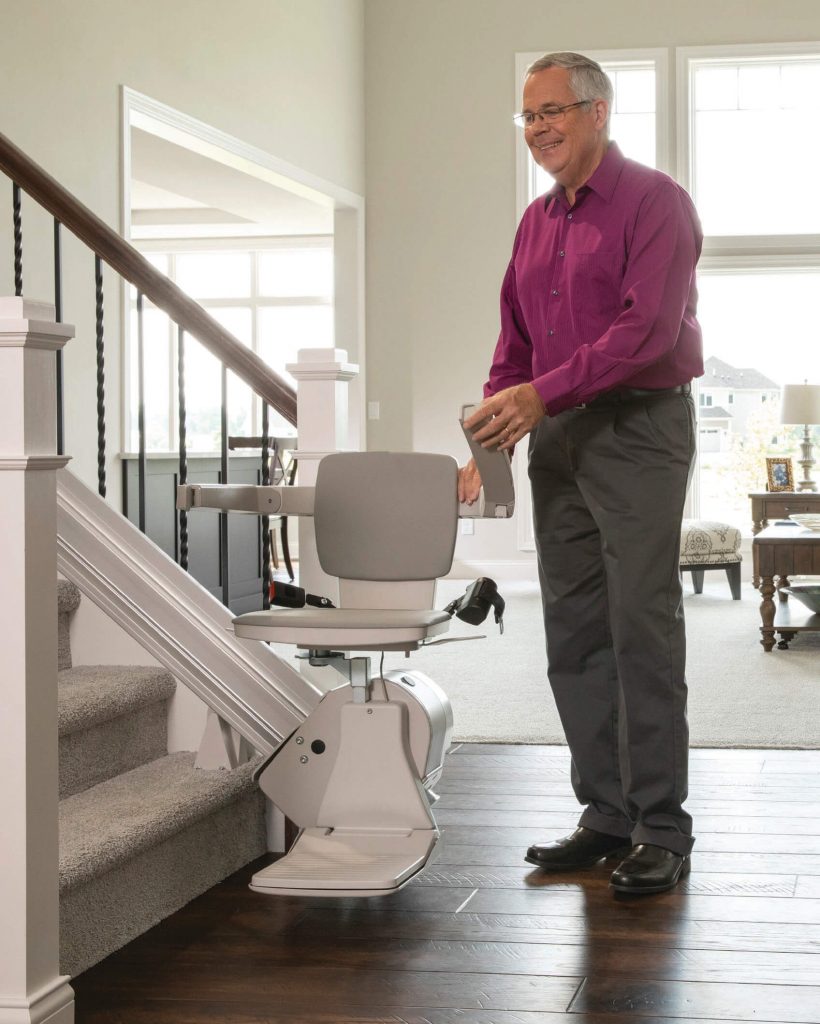 This is our most popular model. Elan offers years of reliable use with Made in America quality.
The Elan stair lift comes standard with a large number of convenience and safety features to meet your individual needs.
Other power options can be added.
A unique narrow vertical rail design leaves extra space on the stairway for family members.
The Elite Curved lift will be custom built specifically for your home.
This lift delivers an unmatched smooth ride from the very bottom to the top of your stairway.
You can go up two, three or more flights without any transfers.
Many options are available to customize your Elite curved stair chair lift to fit your needs and home configuration.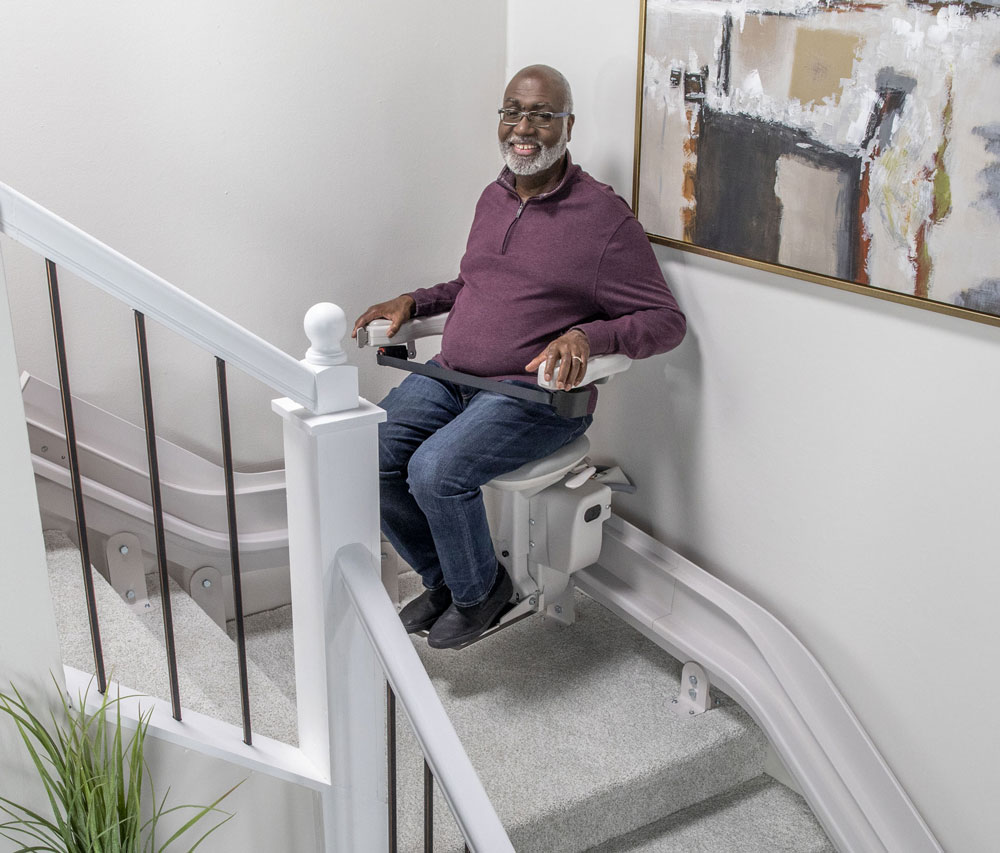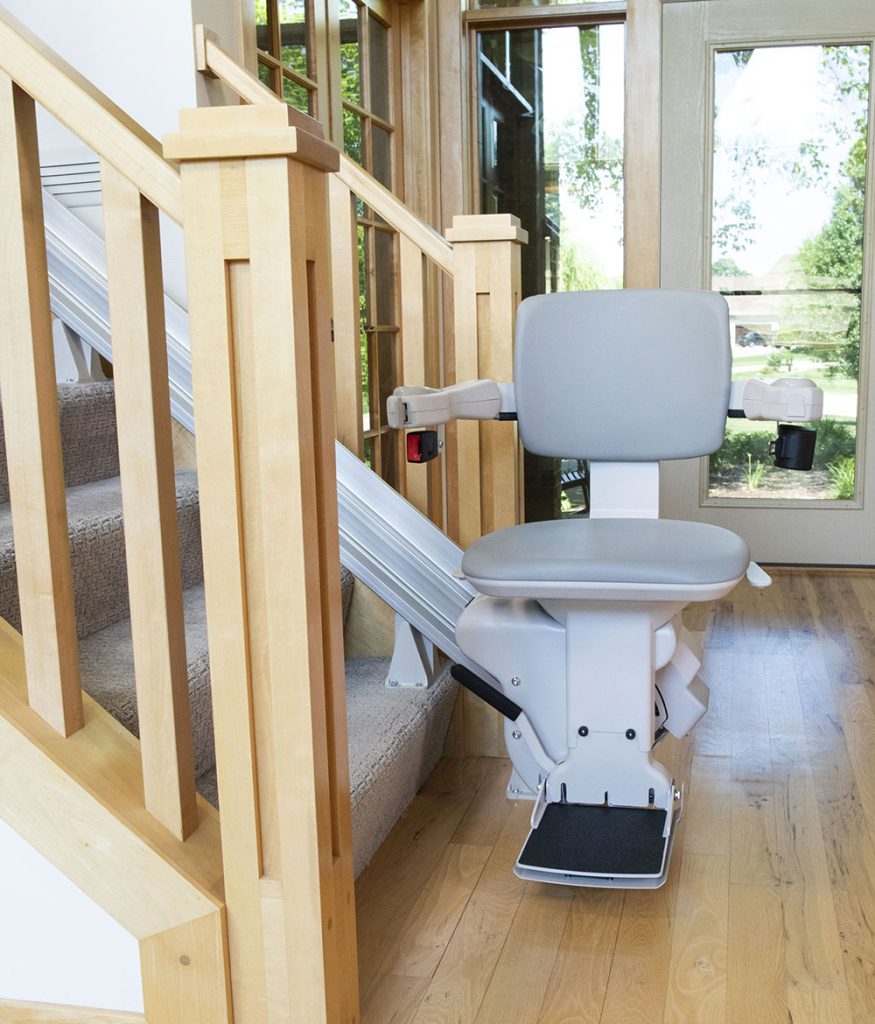 ELITE STRAIGHT STAIR LIFT
The Elite chair lift merges comfort, quality, and style to give you the very best.
The Elite Stairlift offers a premium design that seamlessly blends into your home's environment. Its ability to carry a user up to 400 pounds gives it exceptional stability.
Options such as the power swivel seat and folding footrest allow you to customize your Elite stair chair to match your unique situation.
Commercial/Public Space Lifts
For Commercial Buildings or Public Spaces (such as a churches, temples or community centers) we offer lifts that meet the special requirements for these areas. These are basically adapted versions of the above residential lifts.
For Special Situations (such as spiral steps, steep angles, users over 400 pounds, etc.) we offer other lifts to meet those less common situations.
CALL US NOW
Open 7 days a Week
Including Weekends and Holidays
You will talk to a team member (not an answering service).
We can answer your questions on timing, pricing, the general process, and specific stairway or user concerns.
We can also arrange a no obligation / no pressure visit if you would like